Welcome to my Educational Resources page!
Here you will find "Everyone Must Do" links (for current students),
"I Need Help!" links (for any student in need of assistance)
and "What's a Parent to Do?" links (pretty self-explanatory, yes?).
Also, there are a few "Teacher Resources" at the end of this page,
which may prove useful to parents looking to get a glimpse into the educators' psyche.

Use! Cruise! Enjoy!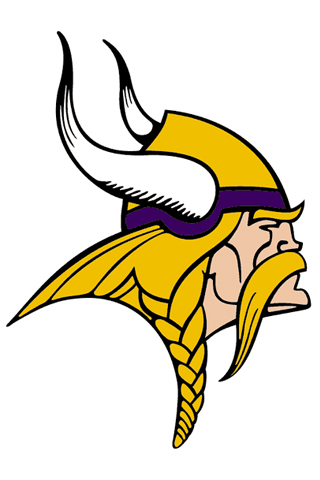 Links:



"Everyone Must Do"

(current students):

We will be using TurnInIn.com for all our formal essay and paper submissions this year. TurnItIn is a site that you will upload your finished papers to (much as you might attach a photo to an email or upload pictures to your Facebook) where they will be checked for

plagiarism

. When it is time for you to register for the site, I will give you a detailed list of printed instructions to follow.


For now, you might want to

...
Familiarize yourself with Westhill's Plagiarism Policy, and the consequences involved in plagiarizing.

To note:
According to the Plagiarism Handbook, "The consequences for cheating / plagiarizing can range from failing the assignment to losing credit for the class," and are at the discretion of the individual teacher. I have no patience, or sympathy, for cheaters. Do not cheat.


If you are planning on playing a sport this year (and I heartily encourage you to try-out the title of "student-athlete") visit the Westhill Sports website. There is even a link here to required forms (medical consent, etc.) that you must fill-out and file prior to the start of your season.


Don't forget to start your FIRST class assignment! Visit the Stanford Philosophical Encyclopedia site and read the short Biography of Niccolo Machiavelli. Read from the section at the top starting with "Why Machiavelli?" and when you are done with that, scroll down and read the couple of paragraphs under Biography. There will be an in-class quiz on this, prior to our discussion and examination of Machiavellian ideas, in conjunction with our Class Rules discussion. Yes, intentional.



"I Need Help!"

(any and all students):
If you are having a hard-time with a text, there is NO REASON not to take a trip to SparkNotes.com, contrary to what you may have heard. On the SparkNotes site, go to Search at the top of the screen, and enter the title of the work you need help with. This will take you to a page (see example for "Othello,"

below

) that contains summaries of the scenes (or chapters, if you search a novel), a quiz to check for understanding, important characters and quotations, and possible study questions and essay topics. Very helpful!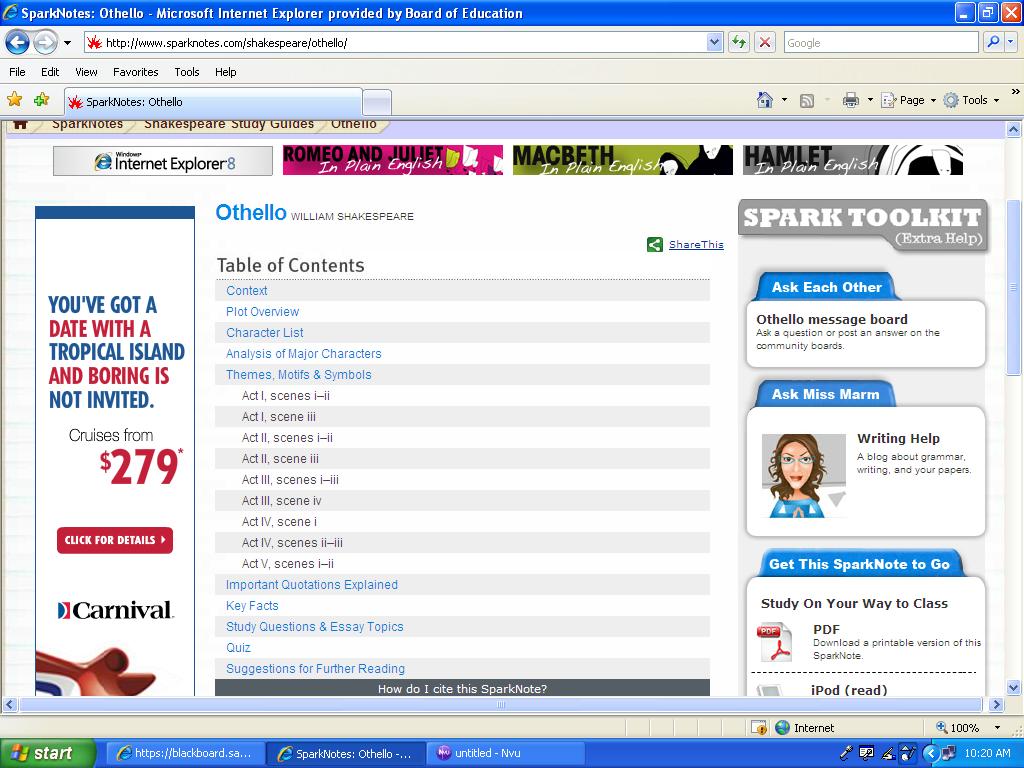 "Need Help!"

(cont.)


Another good (and free!) resource for help with homework is Homework Spot. Here, you can search by grade, topic, novel, subject or really anything to find people studying the same sorts of issues with you, and having the same struggles. There's lots of advice and even templates showing how to do certain types of assignments.
"What's a Parent to Do?"

(the grown-ups):


There are a number of "issues" parents have raised me with me over the past few years, and while some answers still elude me (I don't have kids of my own yet, folks) here are some resources I've discovered that could prove helpful, whatever the situation:



Private Tutoring:

If your son / daughter needs help in any of the courses at Westhill H.S., or is identified as having "special needs" and requires an educational plan-of-attack to be drawn-up for them, I recommend Hoffman Educational Group located here in Stamford, CT. They have an excellent approach to private tutoring and diversify their program to fit the individual student.



Grief Counselling:

If a family member or friend falls ill or worse and your child needs help, I cannot say enough about the wonderful work being done by the Den for Grieving Kids in Greenwich, CT. They are a not-for-profit, and endlessly helpful.



In-School Therapy and Social Services:

Westhill offers a number of great programs and services, which are enumerated on the Guidance portion of the school website. In addition, the school employs a fantastic psychologist who I am proud to call a friend, as well as a colleague. Her name is Dr. Evelyn Bilias, and you can email her here.



Teacher Resources

(and further assistance):

These are a few sites I use myself when lesson-planning or checking that my lesson-plans align to the curriculum. They may be useful to you as well! The first is

Teacher Planet

, and the link I have provided takes you directly to the Calendar portion. Here you can find lesson-plans based on events of the particular month they are being taught in (Black History month, lessons related to Valentine's Day, what is an Indian summer anyway plans, etc.), or search by topic (put Othello in the search box, a whole lot comes up!) Next, I provided you with the link to

123 Certificates

, which I find endlessly useful even in high school, and I am sure would help with parenting too! Here you can make fancy certificates for almost any event, from being a great in-class participant to doing the dishes at home. Lastly, there is a link to the English Language Arts Curriculum Framework, which is to say, the guidelines that all lesson-planning I do must adhere to and support. Thanks for reading, and enjoy!


Can't find what you are looking for?
Try one of the searchable databases below.
Google
is my favorite (and I feel most reliable) search engine, you can "Google" a particular text or work here, or a topic you need to know more about, and the answers it pulls are generally pretty reliable.
Ed Resources
is a company that deals in many types of education software, I find that their prices are good and their products reliable.
Questions? Comments?

Email Ms. Tobin, by clicking the button:
Acknowledgements: