As a class, we are going to examine some of the key characters and their actions in texts we've read this year. We will do this through a court-like examination of their motives, actions, and responsibilities. Some will be tried for murder, others for lesser crimes, but all will remain innocent -
until proven guilty.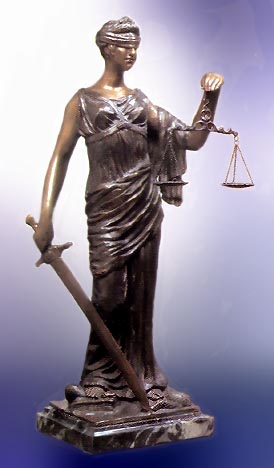 WHO:
Your team of 4 will be pitted against another team of 4, in the roles of prosecution and defense. Your task is to seek justice for your client - either the accused, or the State.
WHAT:
Each team will appoint a lead attorney, two witnesses, and a secondary attorney to make your case. For
case assignments
, scroll to the bottom.
WHEN / WHERE:
The "performance" / presentation will take place on a day as pre-assigned by me, and we will all meet in the Little Theatre for maximum dramatic effect during our usual class time.
HOW:
You will use your oratory skills, pre-gathered facts (including textual citations and references), costumes to denote and add-to your parts, proper courtroom etiquette, and a little dramatic skill to win your case. I will serve as judge and jury, and for each case we examine will declare a winner in either the prosecution or defense based on overall case and presentation.
Possible Case Assignments:



1)

Holden Caulfield

, being sued in the matter of emotional distress by the parties Jane Gallagher, Stradlater & Ackley, his own parents, various former teachers, and others he has harassed and abused (see: Faith Cavendish, Carl Luce, etc.).
Prosecution and Defense to be assigned.

2)

George Milton

, in the willful murder of his alleged "best friend" Mr. Lennie Small.
Prosecution and Defense
to be assigned.

3)

Santiago Nasar

, in the matter of the rape of Angela Vicario - was there sex, was it consensual?

Prosecution and Defense
to be assigned.

4)

Pedro & Pablo Vicario

, in the matter of the murder of Santiago Nasar for the alleged rape of their sister, Angela.

Prosecution and Defense
to be assigned.


Back to:

Acknowledgments:
Some pictures on this site provided by
Philip Russell, PLC